Honest Feedback From Moms (and Dads!) Like You
This mom I have worked with multiple times. The first time was the initial sleep training of her 11-month-old daughter. For all 11 months, she was waking constantly throughout the night, and needing assistance in going back to sleep each time. I also coached her during her daughter's nap transition at close to 16 months. This text was sent after working together only a few days in.
In 3 Days
This mom had contacted me after experiencing multiple wake ups with her 5-month-old son. After only a few days of staying consistent and sticking to the sleep plan, her son was putting himself to sleep independently at the start of the night, and was only waking once to eat and then going back to sleep on his own until after 6 AM. She sent this text after night 3.
"Almost 10 hours!!"
This text was sent from a mom who was experiencing postpartum anxiety and depression after months of not getting adequate sleep. We worked together to get her son to independently put himself to sleep at the start of the night. Her son was experiencing some new developmental skills which made the sleep training a little bit trickier, but after about a week (and after he started mastering the skill of rolling), she sent this text.
Sent after a about 3 days of sticking to her sleep plan with a 9 month old waking all night.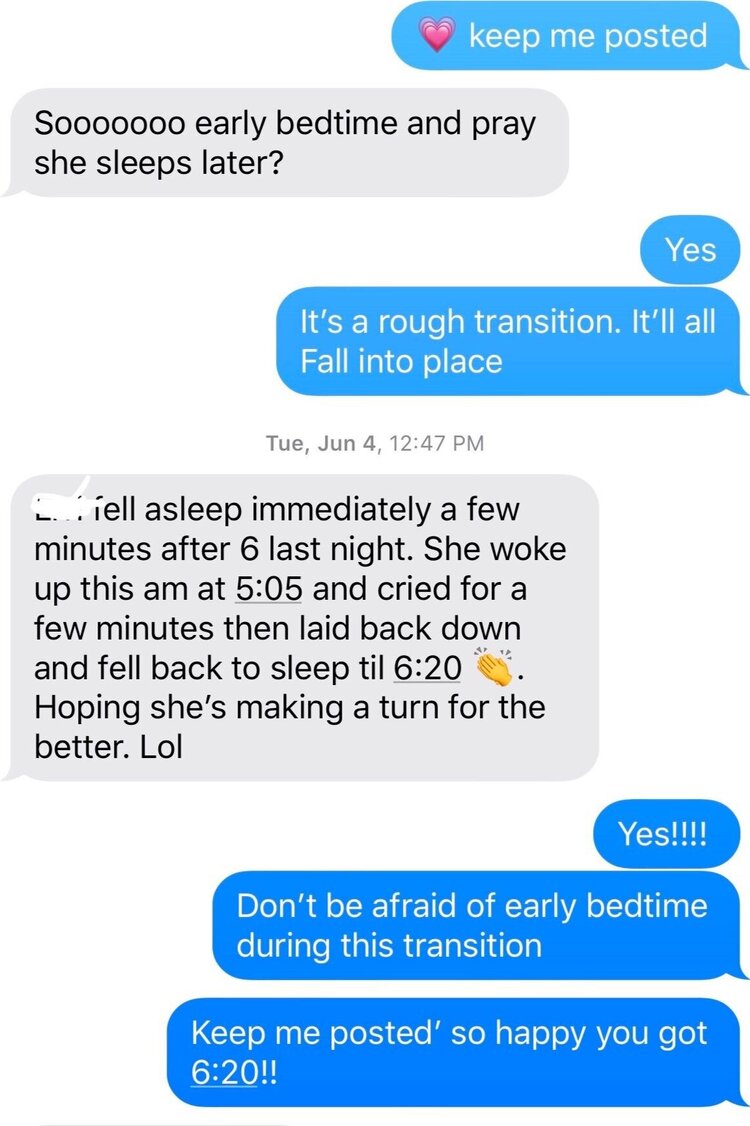 Coached through a Transition
Sent from the mom I had mentioned above when her daughter was working on her transition to one nap. It can be difficult for both parents and children to adjust to a new nap transition, but after staying consistent and with some coaching…
"She slept through the night"
The following two texts are from a dad (who is also a middle school/high school friend). These texts were sent just a couple days into a consistent schedule and following my sleep plan for his daughter. There is no better feeling than knowing I've helped struggling families find sleep!